EURASHE Seminar on Applied research, development and innovation
Other relevant event
Seville, Spain
26/09/2016 - 27/09/2016
EURASHE will organise a seminar titled 'Applied RDI – Making Innovation Happen! A EURASHE seminar on student engagement in and market-based applied research' on 26-27 September 2016 in Seville (Spain). It is organised by EURASHE and Foundation Saint Paul Andalusia CEU.
Applied RDI –making innovation happen!
Applied research, development and innovation (RDI) conducted in institutions of professional higher education (PHE) play an important role in enhancing European competitiveness and innovation capacity, especially on the regional level where institutions act as connectors and crucial links between SMEs, organisations and the society. In addition, applied research activities play an important role in developing students' entrepreneurship skills and contribute to more economic growth and jobs. The working life skills gained from practical applied RDI work strongly enhance graduates' employability and encourage them to start their own businesses.
This is why applied RDI is also one of EURASHE's four key focus areas. EURASHE sees it as a crucial factor in enhancing the innovation potential and commits strongly to promoting the activities and to contributing to the transfer of research results and increased cooperation through innovation and applied RDI activities.
In 2015 EURASHE organised a seminar on regional aspects of applied RDI. In continuing this work, EURASHE will organise its second international applied RDI seminar on 26-27 September in Seville (Spain). This time the main focus will be on two central and defining themes of applied RDI: student engagement in project activities and market-based applied RDI.
The first day of the seminar will focus on the different aspects and possibilities of student engagement. It will include a keynote on e.g. how to integrate the RDI activities and results into teaching. Participants will also be provided with real-life best practice examples from different European countries on ongoing activities done by and involving students in different fields. These examples will provide participants with ideas and practices, which they can also implement in their respective institutions.
The leading theme of the second day will be market-based research activities and cooperation, during which the themes of knowledge transfer between higher education and SMEs, innovation vouchers and the development work on professional/industrial PhDs in cooperation with the universities will be addressed.
Most of the seminar will focus on keynote speeches and dissemination of real-life examples, in addition both days will also include a panel or discussion by the experts where participants can join in the debate and offer new ideas and perspectives to the topics.
Programme, registrations informations and other practical informations are available from the EURASHE website
Published:
26/09/2016
- Last modified:
28/09/2016
EURASHE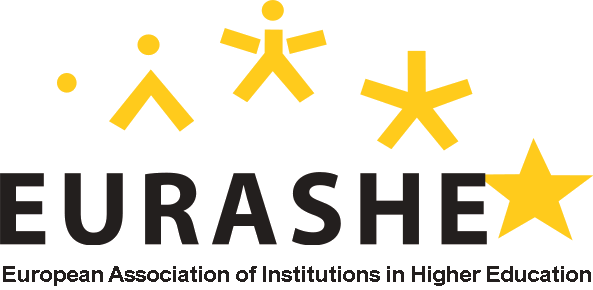 EURASHE's mission is to promote, within the European Higher Education Area (EHEA), the interests of professional higher education and of relevant higher education institutions that are recognised or financed by the public authorities of a EHEA member country, either in binary higher education systems or in unitary 'university' systems.
EURASHE is a consultative member of the Bologna Follow-Up Group.